Detective Honeybear is the best detective on the force. He's brilliant, and uncompromising… But also two feet tall, loves sandwiches, and is a cuddly, stuffed wittle bear that drives his co-workers insane.
It's Kojak with less interest in lollipops, and more interest in honey. It's Columbo with just slightly more fur. It's Sherlock Holmes, if Holmes was addicted to sandwiches instead of cocaine. Detective Honeybear skewers and parodies the greatest mysteries of our time, while creating a few new ones, and answering the all-important question: just how adowable can cwime-sowving be?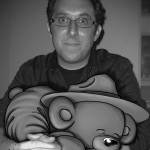 Alex Zalben (Words) is a writer and comedian living in New York City. He's written Thor and the Warriors Four – a four issue Thor/Power Pack miniseries – for Marvel Comics. Also for Marvel, he wrote stories for Hulk, Squirrel Girl, and one time, an X-Men comic that was given out at Taco Bell. He currently writes about comics and TV for MTV Geek, and hosts Comic Book Club – Live! for Nerdist.com. You can check out barely more info about him at alexzalben.com.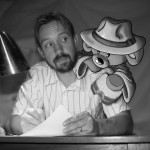 Josh Kenfield (Art) is an illustrator and designer living in Los Angeles. He has done work in various media forms, including but not limited to TV, film, theater, web content, and print. For the comics industry, Josh has worked as a lead colorist on Bad Island and Ratfist, illustrated the graphic novel Scrooge and Santa, and contributed work to webcomics Axe Cop and Bearmageddon. You can see other things Josh doodles on his blog and online portfolio.
You can contact us at info@detectivehoneybear.com!